What type of trip are you after?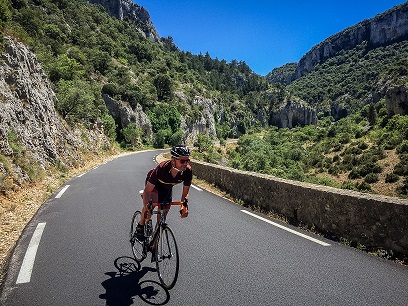 We do trips for all types of rider, from those preparing for some serious racing or touring to those who just want to soak up the scenery.
If it's climbing you are after, we have that for you in abundance, and if it's long flat days then we can work that out too.
When you book one of our trips we will talk to you a lot about what sort of riding you want to do and will bend over backwards help you find what you're looking for.
We can support trips of any duration - you just need to decide whether you'd like to do a short 1- or 2-day trip, or a take long weekend (our 4-dayers are very popular), or something longer.
Is it a leisurely holiday you're after or a big challenge? Would you like an off-the-peg package - what we call 'open trips' - where we sort it all out for you, or do you know what you want to do and you'd just like our support when you do it - what we call 'custom trips'.
You could include watching one of the great cycle races or doing one of the great European sportives as a part of a longer trip, or both!
Once you have got an idea of the type of trip you'd like to do, you could think about where you'd like to go. Have a look at some of our existing destinations here, but we are developing new trips to new places in collaboration with groups all the time, so if you don't see what you'd like then just get in touch. We can take people to our place in the Dordogne, but we also take people to lots and lots of other places. We'd love to help!
Have a look at some of our destinations:
Our Mont Ventoux long weekends were the big hit of 2016, and we are replicating the same model in the Alps and Pyrenees in 2017. We collect bikes and luggage and take them down ahead of you, you arrive by air on a Friday morning and we meet you with your bikes and luggage, you ride for 4 days, and then we drop you at the airport on Monday evening, and follow you back with your bikes the next day. It's a cracking format for a trip which minimises leave taken from work, but maximises the riding.
The Dordogne: The riding to, from and around our place La Bucherie is set in wonderful rolling landscape which provides plenty of variety and challenge and is, by British standards, fabulously traffic-free. On a 50km loop in the height of summer you are unlikely to pass more than a dozen cars. A well-mapped and tested network of 50 km, 75km and 100+km loops has been mapped for you on quiet and well-surfaced roads. These can be downloaded to your device or taken in your jersey pocket as a paper map. From an easy run of 30km with a net descent of 200m arriving for lunch in the picture postcard medieval town of Brantôme to a tough 100+km loop with over 1500m of climbing and a saw-tooth profile, there is something for everyone. If you really want a test then why not head with us to the nearby mountains to try your hand at some serious climbing and descending.
Have a look at some of these pages about riding around La Bucherie which include videos of riders' experiences for different ideas:

Leisure touring

Intermediates

Competitive

Off-road

Triathlon

Trips to pro races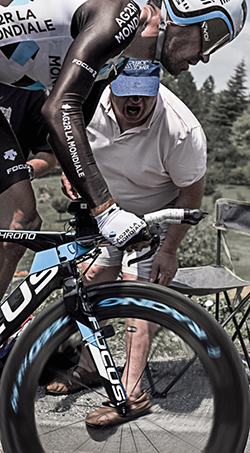 In 2016, our local town of Limoges was a stage finish (stage 4) and start town (stage 5) of the Tour de France. Stage 5 headed down to our own 'secret' mountains in the beautiful Cantal and this is a sensational ride route, with plunging gorges and finishing amongst high mountain cols. There is some exciting video of some of the spectacular mountain descents here. We'd love your company there.
In 2016, we really enjoyed our first Tour de France long weekend which involved seeing the first 3 stages of the Tour as it started in Normandy (including Mont St Michel and the D-Day beaches), with a chance to ride in beautiful landscapes and see historic sites throughout your trip as well as see the cycling superstars up close - we mixed in the team zone with Cav (in yellow), Froome and Geraint. We can organise custom trips for groups to the Tour as soon as the route is announced in the Autumn.
The pro-level Tour du Limousin and the Tour du Poitou Charente (raced by Mark Cavendish, Luke Rowe, Alex Dowsett and many other stars in recent years) take place all around our place in the Dordogne each August with many riders fresh from the Grand Tour and, for those who would like to match themselves against the pros, stages of the event can be easily recreated! In 2016, we'll be headed to see the likes of Ben Swift (Team Sky) and Alex Dowsett (Movistar) in the Tour de Poitou-Charente's départ before riding the 90km back to La Bucherie.
Have a look at some of the big races that we can help you see and ride near on our calendar page.