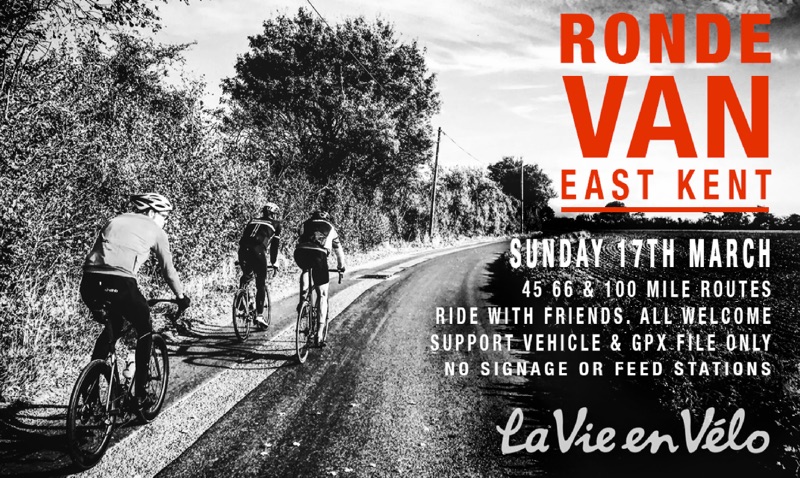 Thanks to Andy HW for help with the poster!
Ronde van East Kent
The date of the 2019 edition is Sunday the 17th March
The Ronde van East Kent is an annual birthday bike ride for our friends, including the ones we haven't yet met. The original idea was a sort of big reunion for people who have been on my trips, but it has in only its second year evolved to include lots of new faces which is just great!
It's not a sportive, there is no signage, there are no feed stations. I ride it, I don't drive a support vehicle (unlike at other sportives). Riders ride it at their own risk.
I will publish routes of around 100, 66 and 45 miles and will include a link to them on my ridewithgps page here a month before the ride. The 2019 100-mile route will head from Whitstable down to Rye and back, the other two shorter routes will be abbreviated versions of the same route, with the same start and end sections. For navigation you will need a functioning device with the route loaded or a paper map, or both, or to follow someone else reliable. Or you can navigate from your phone or you can just wing it!
Primarily, I put up-to-date info on a Facebook event page but I know and respect that plenty of people wish to live a life Facebookless. So, I will endeavour to keep this page updated, but if in doubt just email me for info at angus@lavieenvelo.com.
I will try and warn some hostelries and cafés en route that we are coming and they will inevitably ask 'how many', so it would help me enormously if you'd let me know that you are coming either via the Facebook event page or via email.