Where else would you like to ride?
In 2017, more than half of our trips were custom trips where the client dictated where they wanted to go and we just provided all the support that they required. We can take you anywhere you like within about a 10hr drive of the south-east of the UK and still save you money. We are very suited to helping you because we operate a very lightweight operation - one very experienced man, one well-equipped van & one very secure trailer.
We have taken trips to Paris, Normandy, Flanders, Picardy, Holland, Belgium, Provence, the Alps, the Pyrenees as well as to our base in the Dordogne.
Some ideas?
We can take you to see and ride the 'Hell of the North', the Paris-Roubaix. We have have taken groups to historic Arenberg and after a picnic shared with Belgian and French fans we take up position in the Arenberg forest. Big screens, boozy Belgians, the anticipation of the brief excitement, the helicopters coming, the charging vehicle caravan and team cars and then it's upon you. At 50kmh across the huge 'babies head' cobbles (usually dry, for us, but often mud-caked). The picture below was taken that day.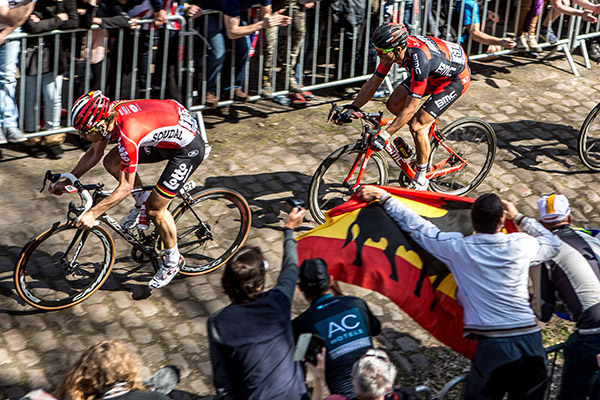 See our pics of all the razzmatazz on our 'Trips to see Pro Races' page.
In 2016, we took a club to support their annual trip to see the Tour of Flanders and to ride its sportive over a long weekend. We helped them by taking a group of riders and their bikes (saving on the crossing costs of a vehicle and the driving duties of at least one driver). We supported their riding and ran them to and from their accommodation and ride starts. We carried their spare clothes, water, food and mechanical support. We are very familiar with driving on the continent and the our vehicle is fitted with a toll gadget which means no stopping and fumbling for change at those barriers on the autoroute.
We're planning shorter custom trips to northern France and we'd love to take groups on weekends to the Somme, or Picardy, or Normandy including to see the Tour de France, or anywhere else you'd like to ride and you'd appreciate some support. We can make all the relevant bookings for you and find you great accommodation to sut your taste and budget. We can provide full support, picnics, mechanics, etc. throughout.
Maybe you are planning a London-Paris ride? Give us a call to discuss options on 07984 065329.
Maybe you have an idea to visit somewhere in the UK and you could do with some logistical support? We can transport 8 riders and their bikes to and from weekend venues, as well as for longer stay. Yorkshire? Wales (I've found a nice hotel and great cycling in West Wales)?
Fancy riding somewhere new as a group, such as below in West Wales, then we'd love to get involved. We like travel and cycling, so just get in touch.
Have a look at some of the big races that we can help you see and ride near on our calendar page.

Maybe for a sportive, or a race, of for team training, or just a holiday? We can transport and support your trip and help with all the logistics of accommodation and food. We're happy to help, in fact, we actually enjoy it! Let's go.
Northern Europe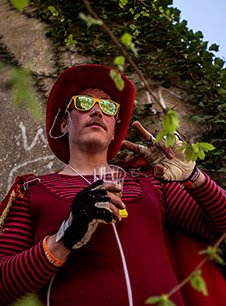 If you'd like to consider riding in Northern France, Belgium or Holland, perhaps combining your riding with
watching one of the great pro-cycling races that pass nearby our shores, then we'd love to help you with accommodation and logistical back-up. Prices on request.
To discuss your opportunities and ideas, or to hear a few of ours, please just give us a call on 07984 065329 or email angus@lavieenvelo.com.