Introducing La Vie en Vélo
La Vie en Vélo take cyclists to beautiful places, including to Mont Ventoux, the Alps, Pyrenees, or to our own four-bedroom house in the heart of the beautiful Dordogne in the cyclist's natural home, France. We can also support your group trip to great events like sportives and big pro' races and we can support your own trip ideas.
We aim to be affordable, friendly, comfortable, flexible, delicious, relaxing and exhilarating all at the same time.
We are really proud that after only a dozen trips we have built up a fantastic reputation of which we are very proud. Please have a look at our reviews to see what people are saying.
Hassle-free
We think that one of the biggest problems that cyclists associate with going abroad is the cost and hassle of getting to warmer climes. So, we propose that we pick you up and take you there . No tickets needed, no airport terminals, no bike bags, no extra fees, no parking, no taxis. Just let us do it for you for one nice, low price.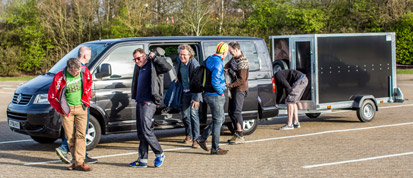 We have a 9-seater VW Transporter for you to ride in through the fabulous French countryside in comfort, and a custom-fitted trailer to transport your bikes safely. Just load yourselves, your bikes and your bags in the UK and get out and ride further south, or wherever else you like, to be looked after in comfort.
If you come with us to our base in to the Dordogne, we propose to cater for you completely, with great home-cooked food, and sumptuous picnics or by taking to you to carefully selected local brasseries and cafés. We'll ferry you around while you're with us and help you to plan your day to suit whatever type of cycling you fancy, even if it's none at all. We work hard to remind you that you are on holiday!
If you choose to come to one of other destinations then we will source and reserve tables in great places to eat or just drink a coffee.
Custom trips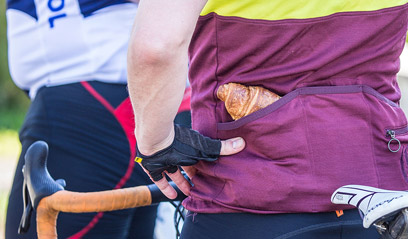 We also offer support for your custom or bespoke trip. Maybe you are planning a long-distance ride and require logistical support, or maybe you'd like to go and see some pro-cycling on the continent and combine it with some riding, or do one of those brilliant French sportives. Maybe you'd like to head north or west into the UK rather than south to the continent. We'd be more than happy to help. For instance, we are currently helping one club with transport and logistical support for their annual Tour of Flanders trip and another group of riders organise a trip. Other ideas and an idea of costs are on our Custom Trip page.
We are dedicating a lot of energy to establish contacts with clubs and groups of cyclists to help them tailor trips to suit their needs. If you have an idea, then please get in touch. We'd love to hear it and hopefully we can build something fantastic together.
Outstanding cycling at Outstanding prices
We strongly believe that the key to our success will be our commitment to customer service and developing long-term relationships with clubs and groups of cyclists. We think most trips are too expensive and that we can still provide an outstanding trip for much less than most of the others because we don't have to pay a third party for accommodation when we stay at our own place.
Our 2017 prices are now published, and we are sure that once you try what we have to offer you'll be happy to chat to us about the next trip.
We know that our survival rests on your great reviews.