Getting around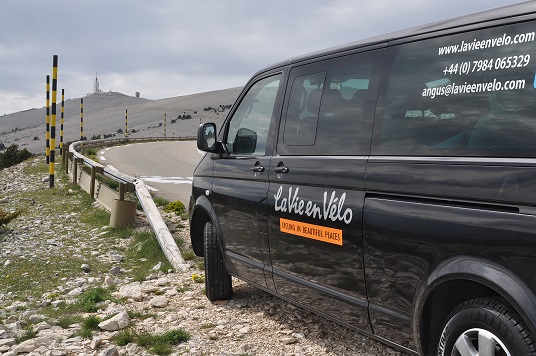 Full support means full support
People coming on our trips are often pleasantly surprised by the level of support they get from the La Vie en Vélo vehicle and driver. We specialise in taking riders' bikes to and from the UK or airports to our various beautiful places to ride, but once you are on your trip you have the full support of the La Vie en Vélo vehicle and driver, which can carry all your spare clothing, nutrition and tools while you ride. We will never be far away and on-call at all times!
We will be on hand to guide your ride and will recommend lovely places to stop and can carry a full picnic or simply go ahead to the next town or village to sort out a place to stop and eat. And when you've stopped riding we are on call to run you to the lake for a swim or to the restaurant or pub for other refreshment.
Our chauffeured, nine-seater VW Transporter, with an adapted box trailer to safely transport your precious bikes is available for transport to/from the UK. All bikes are mounted on front fork mounts, just requiring the removal of the front wheel for safe, no-touch mounting. The box trailer means that your bikes are not subjected to the elements on long journeys - so no bugs or driving rain in your gears or cables or paintwork.
The vehicle also serves as a mobile kitchen. La Vie en Vélo can provide food well away fromyour accommodation. From a luxury picnic with chairs and linen table cloths at a wonderful vantage point to feed-station style bags or 'musettes' for those who prefer the non-stop, high-performance refuelling option a la Tour de France. La Vie en Vélo can also use the minibus as a pace car for those who wish to really push themselves.
La Vie en Vélo keeps a well-stocked mechanical tool-box on board the vehicle for running repairs, and La Vie en Vélo is at the end of the mobile phone in case back-up is required.