The Alps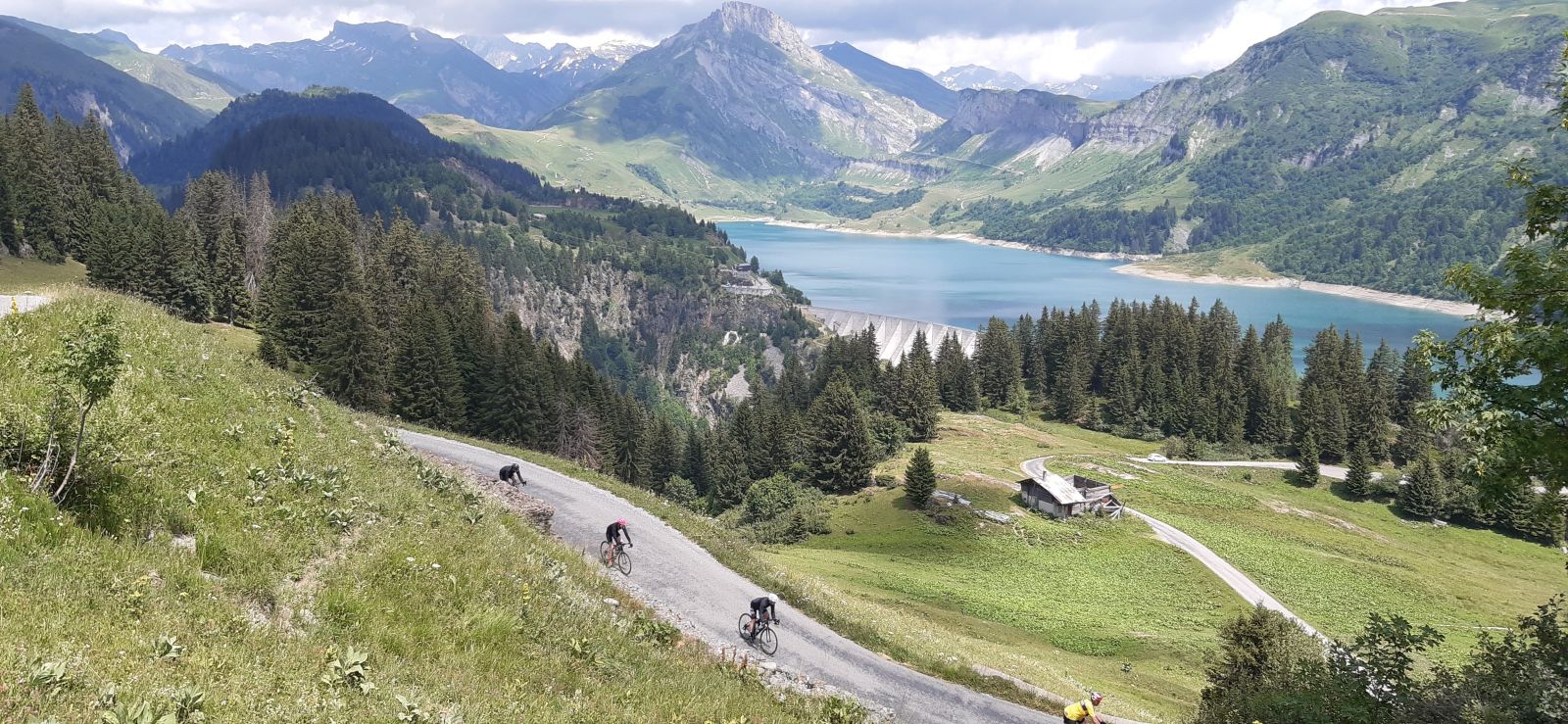 Any trip is possible, and I frequently organise customised trips for groups, but I most frequently run a 4-dayer to the Tarentaise valley for some of the most wonderful riding in the world!
Where is it? Based in a small village near Bourg St Maurice in a wonderful catered chalet hosted by an Anglo-French family. Your Anglo-French hosts Serge & Kerry have been cycling these valleys for a long time and are always on hand with tips and advice. Their chalet has fantastic rooms with mountain views and large comfortable communal areas. Your breakfast and evening meals are served around a big dining table every day. The sound of the tumbling mountain water and the views of the 3000m peaks characterise the chalet.
When is it? A 4-day weekend works as follows. The season starts at the end of May and runs to the end of September. You will be picked up from Lyon airport mid-morning on a Friday and brought to the Tarentaise valley to ride by lunchtime on day 1. You would then have two full days to ride the Classic Cols of the Tour de France. You would also have the chance to ride until lunchtime on day 4 before I take you back to the airport.
How do you and your bikes get there? Your bikes and bags travel ahead of you from the UK. I pick them up from a Kent/SE London pick up point and drive them down ahead of you and then bring them back after the trip. More on this here.
What's the riding like? Mountainous! It's the Alps! There are valley bottom rides but they are limited in scope. People come here to climb the great Tour de France cols, so expect long, hard climbing! You would get the chance to ride the Col d'Iseran, the Cormet de Roselend, the Col de la Madeleine and the Col de Petit St Bernard that crosses the border into Italy.
How many: Maximum group size is 8. The trip needs to have a minimum of 5 to go ahead.
Price: £695, includes 3 nights half-board in outstanding catered chalet in shared rooms (single room supplement £150); bike and bag transfer from the UK and back; Lyon airport transfers; full support (and I mean full support - no need to carry an extra water bottle or clothing up the mountain) on all rides. Does not include flights (Easyjet Gatwick-Lyon normally less than £100 return - no need to pay for luggage because it travels by road, hand luggage only, so very fast through the airport at each end). More and more people are travelling down by train as well, and several come with me in the van.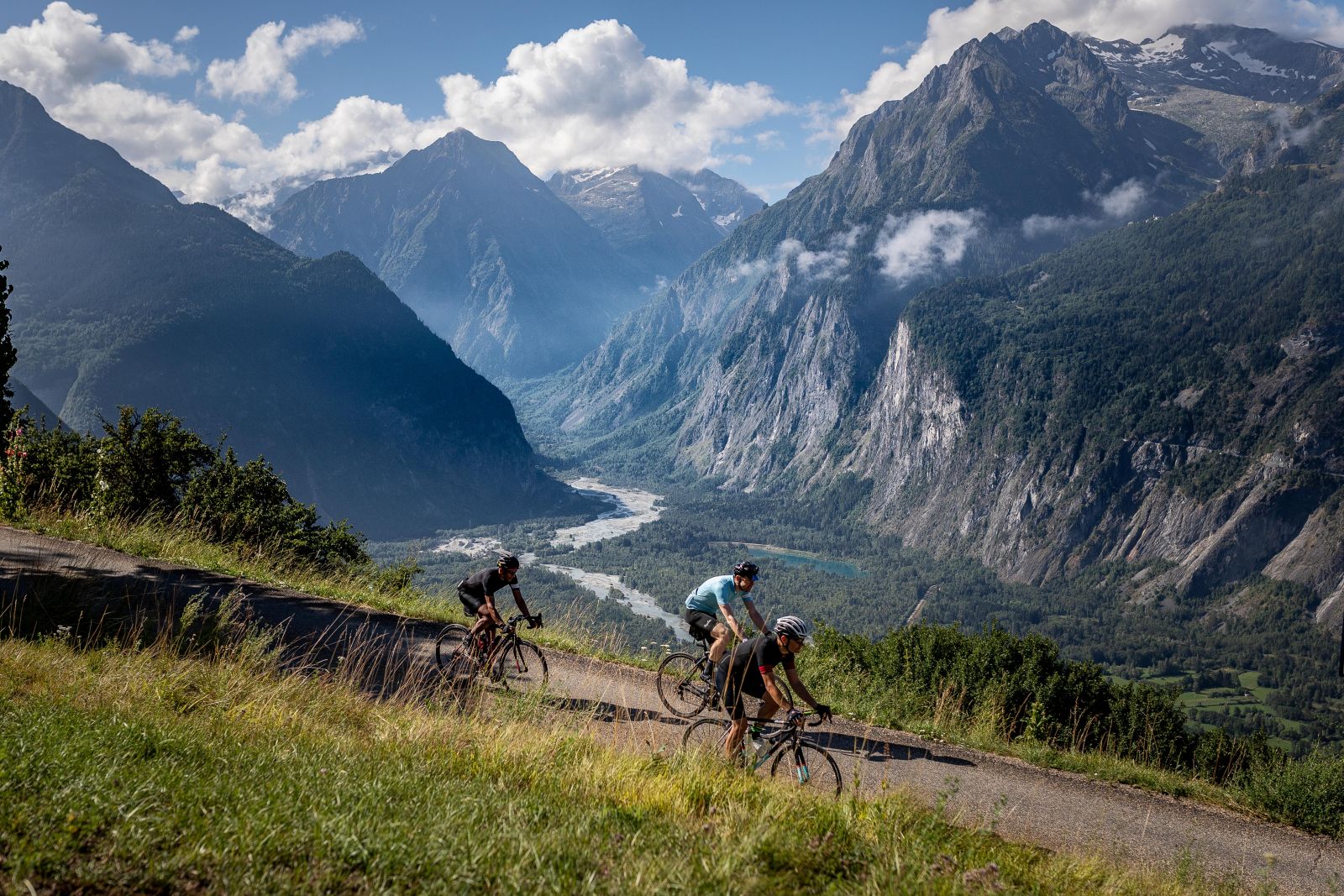 Why the Alps?
One of the World's iconic cycling destinations makes for a fantastic long weekend from the UK, or it could form the main event of a longer trip. Have a look at some of the great reviews that our trips have been getting!
We run weekends for private groups, and others which are 'open' weekends for individuals or small groups who can't make up a whole group. See our calendar page for our availability and propose your own trip. If you have, say, 4 people we can help you to find the rest of a cost-effective group of 7 or 8 people.
I'm currently using two bases in the Alps. The first is based around the Oisans valley for Alpe d'Huez, the Galibier, the Crois de Fer, and others. The second is near Bourg St Maurice for the Iseran, the Cormet de Roselend, the Madeleine and the Petit St Bernard that crosses the border into Italy.

The Tour de France has been running through the Alps for nearly a century and the cycling community holds many of the big climbs as being iconic or at least historic. In Summer, these climbs are populated by slow moving riders making their own pilgrimages to the tops of many great 'Cols'. There surrounding valleys are also marked by dozens of lesser-known but beautiful Alpine climbs. The towns and villages are very welcoming to cyclists who bring in much-needed revenue to the bars, restaurants, hotels and cafés, not to mention to the cycle hire and repair shops. The Alps really are a World-class cycling playground.

How does a long weekend work?
Well, firstly, YOUR BIKES DON'T FLY!!! We load your bikes up in the UK into our custom-fitted bike trailer and then take them down ahead of you the day before you travel. We meet you from your luggage-free morning flight at Lyon airport, and transfer you to the start of 4 days of riding in the Alps (you can be riding by lunchtime), then after your day 4 ride we drop you back at the airport for your evening flight. Then we drive your bikes safely back to you the next day.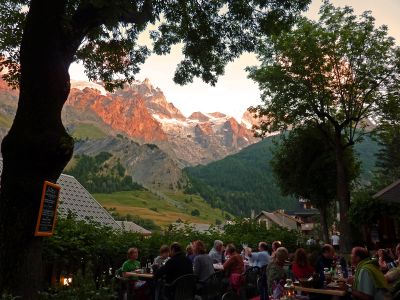 Price: For long weekends the price is just £695pp for groups of 8 people, or £795pp for groups of 6 people. For longer trips add around £150/person/day for groups of 8, £200/person/day for groups of 5/6.
Includes transport of your own bikes and luggage to/from the UK, plus your transfers to/from Lyon airport and your bed & breakfast in shared rooms in a great little hotel.
* Depending on availability at time of booking, so book early!
The hotel: We have found a couple of great little bike-friendly hotels and chalets up high amongst the great Alpine cols, with bike workshops and storage areas. One of them has a great restaurant and bar, and with this view from its rooms and terrace. The other one is a catered chalet where your price includes half-board.
Support: You will receive full support throughout your rides and the rest of your trip at a luxurious ratio of no less than 1:8, including mechanical/medical backup, carrying your spare clothing, water and food, and sourcing of fabulous picnics of great local produce for you (our speciality). When you do the big climbs the van will be as close to you as you like and we can usually even pass spare water bottles in and out of the van as we come alongside you, a la Tour.
Routes: We have a long list of recommended routes that you can choose from and your ride routes can be tailored to suit your thoughts. Turn left out of the village and there is the iconic Col du Galibier. Turn right and it's Alpe d'Huez. The van will be on hand to support you throughout your 4 days' riding, and we can meet you at beautiful places with a fantastic picnic, or we can book you in for lunch or supper wherever you like, and then bring you home afterwards if you'd like. We are at your service.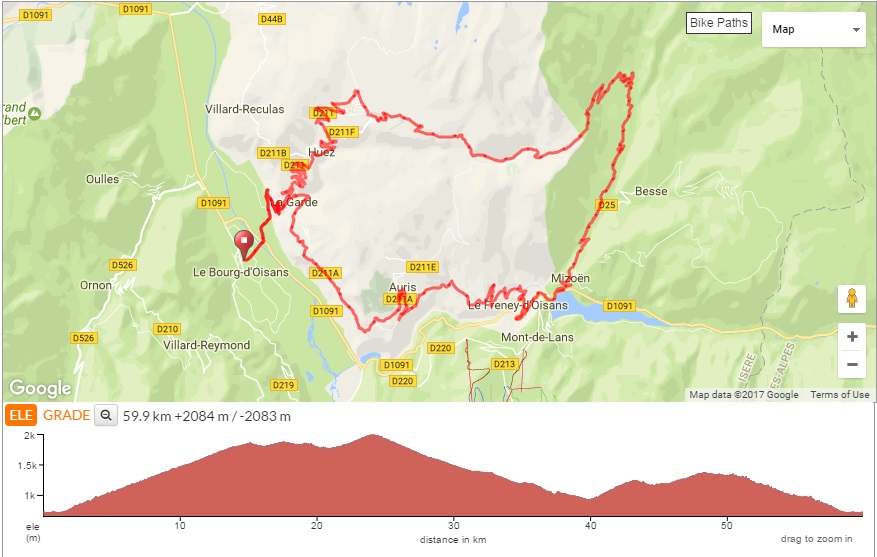 Arriving by plane: Departure: around 8am Gatwick, arrival Lyon around 10.30 local time. 1hr transfer to beautiful drop-off point for lunch and day one ride. Return flight departs Lyon around 9pm for arrival Gatwick before 10pm. Allows plenty of time for a full day ride on all 4 days, and enough time even for an early supper and beer before your return flight.
Bike pick-up and drop-off will take place from a single location in Kent or SE London a day or two in advance of departure and after arrival.
Group sizes: Would suit a single group of 8 but could be open groups comprised of individuals or pairs. Smaller groups can be catered for, but the best per person price is for groups of 8. There is no lower limit to group size, and a nice small group pays a little more per head but enjoys a far greater level of attention and the comfort that small groups afford.
Routes: Routes will be planned in consultation to suit the group. We already have a wide range of routes that take in many of the stunning region's highlights ready to download to devices or to take as paper maps. When you ride the van and driver will never be far away anyway, and will be on call for emergencies.
Ability: Any ability can be catered for but to climb in the Alps all riders should have a good level of fitness and be accustomed to riding up steep hills for extended periods of time. The fitting of a compact chain ring and/or 30+ tooth sprocket in your gearset is highly recommended.
Available weekends: You can choose a weekend for you and your mates by looking at our calendar page for availability, or look out for our 'open' trips if you are not numerous enough to make up a whole group. We recommend the summer months (June-September) for Alpine trips and currently some of these are still free for next season. High summer is great but there is a greater risk of very high temperatures, but an early start to get on to the cool cols before the temperatures climb counteracts that.
Just consult our calendar page and choose a date or just give me a call on 07984 065329 or email me at angus@lavieenvelo.com.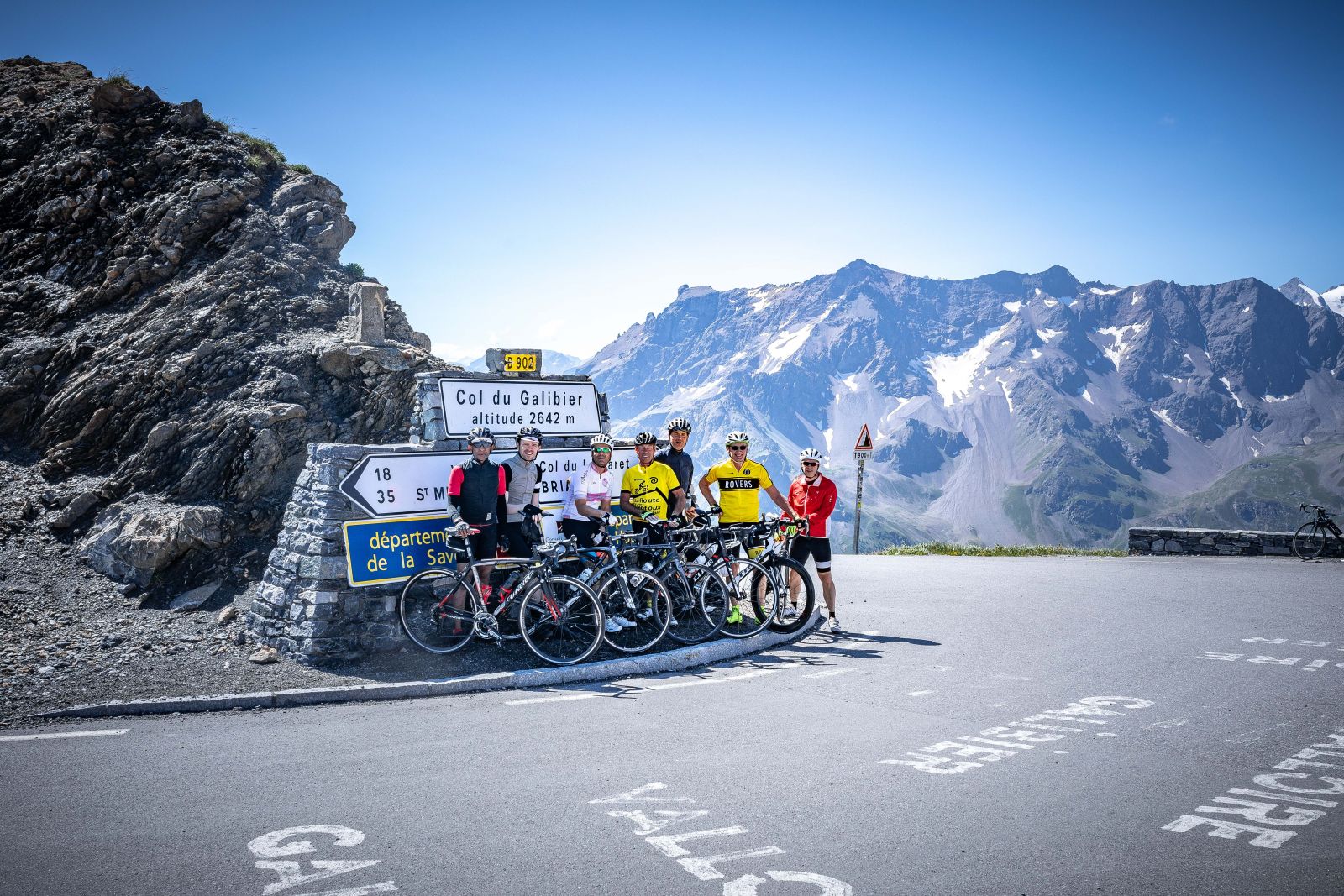 Long weekends (Fri-Mon): from
£695pp
Weeks: from
£995pp