Sportives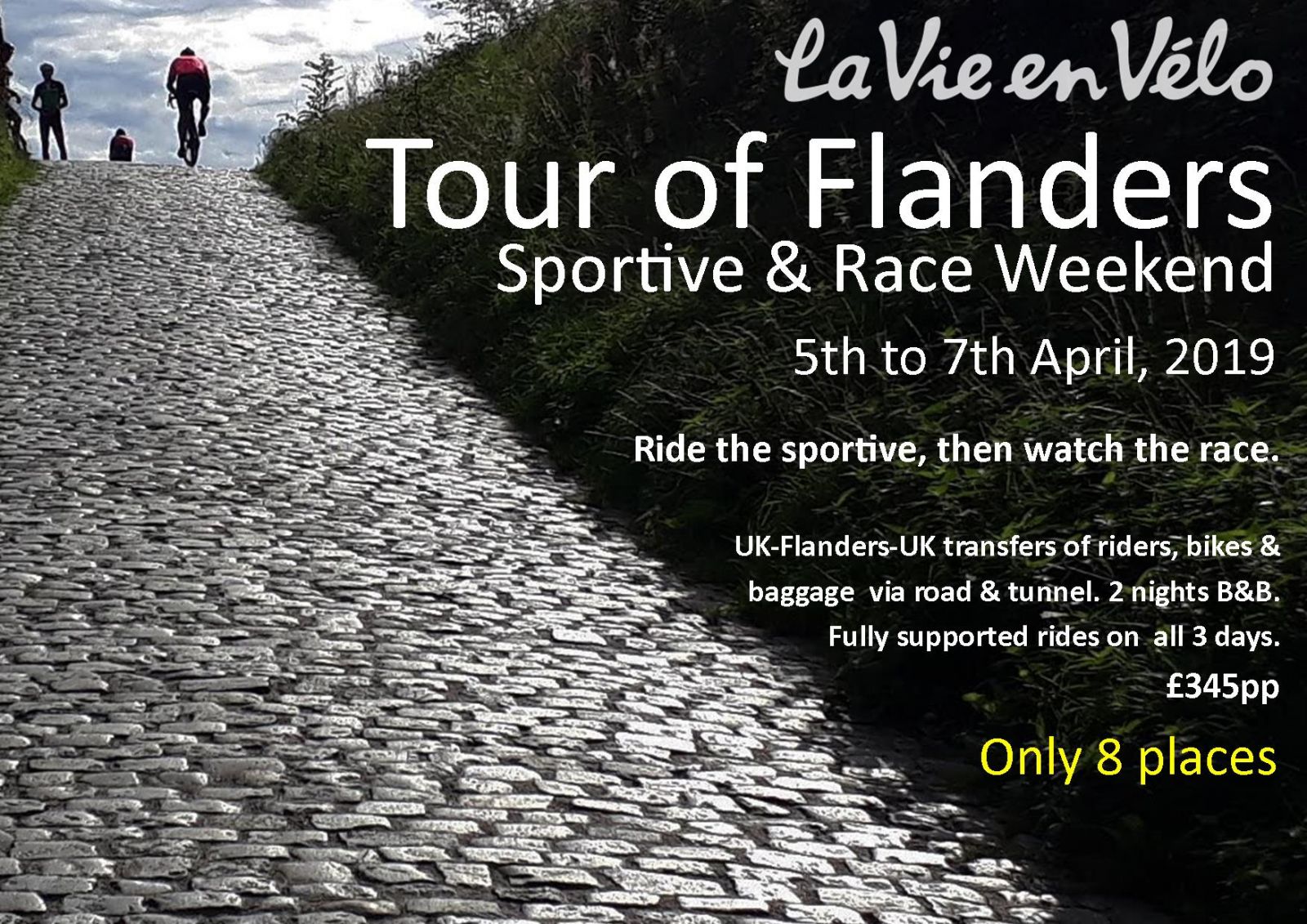 I'm currently recruiting for a Tour of Flanders (Ronde van Vlaanderen) open weekend.
The plan:
5th April: drive the group down from SE London/Kent early on Friday, to have nice, gentle 60ish km ride to the hotel on Friday afternoon, followed by a trip to Antwerp to pick up the race packs on Friday evening.
6th April: riders can ride the route of the their choice of the RVV Cyclo. Routes range from about 75km to over 200km and include all of those iconic cobbled climbs for which Flanders is so famous, such as the Koppenberg, the Paterberg and the Oude Kwaremont.
7th April: riders can either take a leisurely ride on their bikes or an even more leisurely post-sportive ride in the van to watch one of the greatest cycling events on the planet when up to 3 million fans crowd the course to roar on their favourites and watch the race on the big screens, beer in hand. After the race has ended I bring you all back to the UK.
Price:
£345, includes getting you and your bikes and bags to Flanders from Kent/SE London area, and back again; 2 nights B&B in a nice 4* Flemish hotel, near Ghent; all vehicle support during all rides (even during the sportive as and where I can get access to you where the roads are closed).
What's so great about doing European Sportives?
So, you've done a few UK sportives? What next? Want to go and do one of the big (or small?) European sportives? Make a weekend of it?
We can take your bikes down ahead of you and meet you at a local airport or station, or you can ride with us from the UK.
We can organise a trip around you and your friends. If you don't have enough takers to fill a trip (7 or 8), then we'd help you look for others. If you can find 7 or 8 then we can take your wherever you want to go.
Here are few suggestions, big and small, but there are many, many more (see here for suggestions - in French):
Some pics from Orpington-based club GS Avanti's Tour of Flanders trip from April 2016. They arrived on the Friday afternoon, rode the Cyclosportive along with about 15,000 others on the Saturday and then watched the pro' race on the Sunday.