La Bucherie – our own place
We offer a week's cycling in the Dordogne. Enjoy 5 days of cycling your own distances and destinations (guided by our own routes and advice) on the region's sleepy lanes through untramelled countryside where the traffic levels are just a tiny fraction of those in the UK. Just £695 includes all transport to, from and around our own 8-bed holiday house, plus all your homecooked food for the week.
La Bucherie is also available next Summer and Autumn for groups. See our calendar page.
What is La Bucherie like?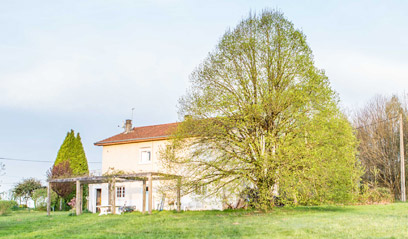 Deep in the beautiful, rolling Dordogne we have a large, modern, very comfortable, four-bedroomed house on the edge of the sleepy hamlet of La Bucherie, near the charming village of St-Saud-Lacoussière (known locally as St Saud – pronounced "san so"). La Bucherie is very near the border between Dordogne and Haute-Vienne (Limousin), also near the border with the Charente.

La Bucherie is surrounded by a dense network of quiet, smooth, rolling roads. It is perfect cycling country!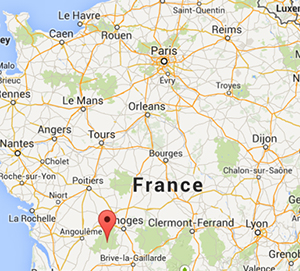 The landscape is punctuated by many ancient chateaux and farm buildings, beautiful villages such as St-Jean-de-Cole and Bourdeilles, and ancient towns, such as picture perfect, medieval Brantôme. Limoges airport is less than an hour away.


The accomodation


The food


The climate


Getting around


Getting down there


St Saud has a small convenience store, a boulangerie, a butcher, a chemist, two hotels – one of which has a renowned restaurant and, of course, the obligatory bar-tabac. The village is about 15km from the charming town of Nontron, famous for its artisan knife industry, which lies in the middle of a triangle formed by the regional cities of Périgueux, Limoges and Angoulême.

However impressive the cultural landscape of the region may be, the real highlight of a visit to La Bucherie is the natural landscape. La Bucherie lies within the 18,000km2 of the Limousin-Périgord Natural Regional Park. The landscape is characterised by high woodlands deeply cut with dark valleys running with cool streams and rivers teeming with trout and crayfish.
If the weather closes in and no-one is feeling brave enough to venture out on two wheels, then maybe a four-wheeled excursion to a local attraction might be more desirable, such as to the Prehistoric cave paintings in the Grottes de Villars or to witness the hauntingly tragic site of the Nazi atrocity at Oradour-sur-Glane. Or if you still have energy left there is walking, swimming, horse-riding and canoeing all available locally.