What type of trip are you after?
We do trips for all types of rider, from those preparing for some serious racing or touring to those who just want to soak up the scenery. Have a look at some of our 2017 trips for ideas perhaps. We took trips 15 trips to 8 different locations in 2017.
If it's climbing you are after, we have that for you in abundance, and if it's long flat days then we can work that out too.
When you book one of our trips we will talk to you a lot about what sort of riding you want to do and will bend over backwards help you find what you're looking for.
We can support trips of any duration - you just need to decide whether you'd like to do a short 1- or 2-day trip, or a take long weekend (our 4-dayers are very popular), or something longer.
Is it a leisurely holiday you're after or a big challenge? Would you like an off-the-peg package - what we call 'open trips' - where we sort it all out for you, or do you know what you want to do and you'd just like our support when you do it - what we call 'custom trips'.
You could include watching one of the great cycle races or doing one of the great European sportives as a part of a longer trip, or both!
Once you have got an idea of the type of trip you'd like to do, you could think about where you'd like to go. Have a look at some of our existing destinations here, but we are developing new trips to new places in collaboration with groups all the time, so if you don't see what you'd like then just get in touch. We can take people to our place in the Dordogne, but we also take people to lots and lots of other places. We'd love to help!
Have a look at some of our destinations:
These are the trips that we ran in 2017:
2017

TOUR OF FLANDERS sportive & race weekend: GS Avanti CC returned for another go at the Cobbled Classic sportive followed by joining 3,000,000 others to watch Peter Sagan take a tumble on the Kwaremont in the rainbow stripes. Some beer was involved. And chips. With mayonnaise.

SPRING IN THE DORDOGNE: A very varied (in cycling terms) group of 8 headed to our base in the cycling paradise of the Dordogne.

CANTERBURY-AMSTERDAM in 3 days: 8 folk did it the lovely way, stopping in lovely Bruges and Delft before a celebratory last night and a leisurely day in Amsterdam.

ALPS LONG WEEKEND: A group of 8 took on some of the great Alpine cols for the first time.

CANTERBURY-AMSTERDAM in 24hrs: A group of 8 took on a mammoth 24hr challenge. Tea time departure for an evening ferry from Dover-Dunkerque, then a 1am departure and riding to dawn and then onward until a late pm arrival in wonderful Amsterdam. Still with enough energy for a night out and then a lift home the next day

LONDON-PARIS: A group of 16 work colleagues planned themselves a busy weekend to chat about in the office on Monday morning. Raising over £2000 for the company's charities in the process.

TRABAIL VC in the PYRENEES: A custom trip for 5 days for 12 in the wonderful Pyrenees. They rode 10 Tour cols (nearly 10,000m of climbing in 5 days) including the Col du Tourmalet, Peyresourde, etc.

MONT VENTOUX OPEN LONG WEEKEND: After the success of 3 trips in 2016, we return with the first 4-day open weekend of the year.

MONT VENTOUX VERY LONG WEEKEND: They came to Normandy to see the Grand Départ with us in 2016, it was to be a leeetle bit more vertical in 2017. 5 extended the usual 4-day long weekend to make it 5 days of riding in sublime Provence. Well, why wouldn't you?

THE WAY OF THE ROSES: This time, we went north! 8 friends went from the west coast across the beautiful Yorkshire Dales and the Vale of York to the east coast at Bridlington. 3 days, 2471m of acent, 270km, and lots of very poor Yorkshire accents.

ALPS OPEN LONG WEEKEND: Our first open group to the Alps for 4 days riding the iconic climbs of the Tour de France staying in a lovely bike-hotel way up high in the valleys. And then we get you home again.

MONT VENTOUX OPEN LONG WEEKEND #2: September in Provence is fabulous. The crowds are gone and temperature is perfect for riding. This time for an open group of 10 involving hiring a second vehicle.

MONT VENTOUX (not so) LONG WEEKEND: 10 gentlemen celebrating a 50th birthday amongst set out to pack our usual 4-day trip into just 3 days. Home on Sunday night before anyone even notices that they have gone? In fact, they'd bagged Ventoux and were celebrating in the bar less than 12hrs after leaving home!

FLANDERS LONG WEEKEND: 8 fellows on a 3-day exploration of cobbled climbs and breweries of cycling spiritual home!
Have a look at some of these pages about riding around our place in the Dordogne, 'La Bucherie', which include videos of riders' experiences for different ideas:

Leisure touring

Intermediates

Competitive

Off-road

Triathlon

Trips to pro races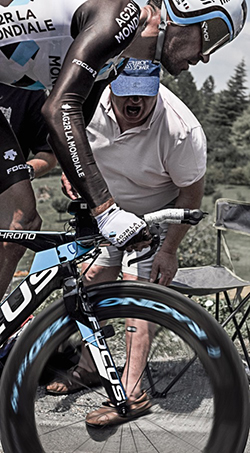 In 2016, our local town of Limoges was a stage finish (stage 4) and start town (stage 5) of the Tour de France. Stage 5 headed down to our own 'secret' mountains in the beautiful Cantal and this is a sensational ride route, with plunging gorges and finishing amongst high mountain cols. There is some exciting video of some of the spectacular mountain descents here. We'd love your company there.
In 2016, we really enjoyed our first Tour de France long weekend which involved seeing the first 3 stages of the Tour as it started in Normandy (including Mont St Michel and the D-Day beaches), with a chance to ride in beautiful landscapes and see historic sites throughout your trip as well as see the cycling superstars up close - we mixed in the team zone with Cav (in yellow), Froome and Geraint. We can organise custom trips for groups to the Tour as soon as the route is announced in the Autumn.
The pro-level Tour du Limousin and the Tour du Poitou Charente (raced by Mark Cavendish, Luke Rowe, Alex Dowsett and many other stars in recent years) take place all around our place in the Dordogne each August with many riders fresh from the Grand Tour and, for those who would like to match themselves against the pros, stages of the event can be easily recreated! In 2016, we'll be headed to see the likes of Ben Swift (Team Sky) and Alex Dowsett (Movistar) in the Tour de Poitou-Charente's départ before riding the 90km back to La Bucherie.
Have a look at some of the big races that we can help you see and ride near on our calendar page.