Mont Ventoux & Provence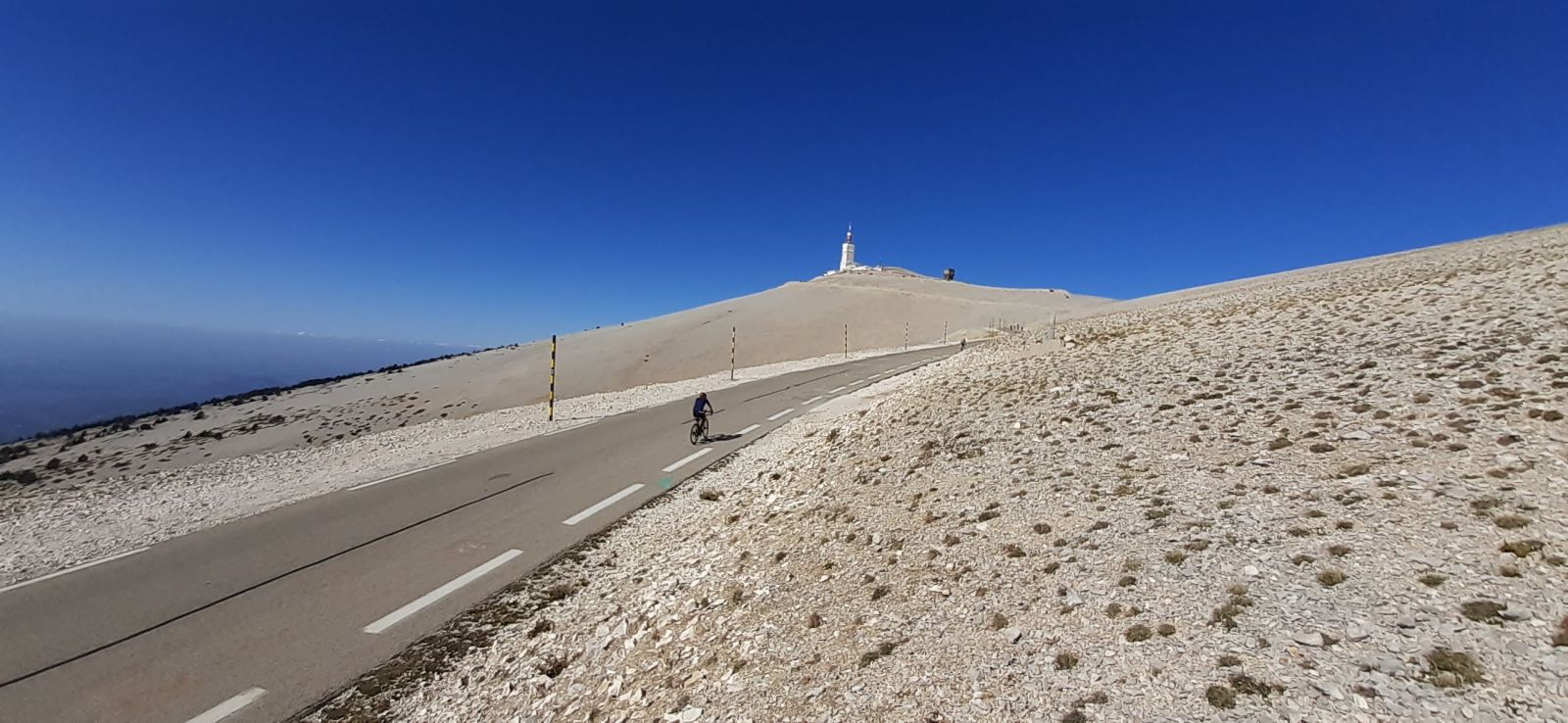 How does a 4-dayer to Mont Ventoux work!
We can do custom trips of any duration but this is the most popular format:
Where is it? Based in a luxurious catered chalet nestled between Bedoin and Malaucene at the foot of Mont Ventoux, hosted by cycling ex-pats. Your hosts have been cycling the area for a long time and are always on hand with tips and advice. The chalet has fantastic rooms and large comfortable communal areas, and a wonderful pool set in a quiet garden. Your breakfast is served around a big table or out on the shady patio every day. The sound of cicadas and the heavenly scent of the Mediterranean vegetation characterise the chalet.
When is it? A 4-day weekend usually works like this: the season starts in mid-May and runs to the end of October. You will be picked up from Marseille airport mid-morning on a Friday and brought to the area to ride by lunchtime on day 1. The Saturday is almost certainly the day for the 'big one' whether that's a single or multiple ascent of the Géant du Provence. On the Sunday we would usually gently do the wonderful 'recovery' ride up through the majestic Gorges de la Nesque and back over the wild Vaucluse plateau, all with Ventoux looking down on us. You would also have the chance to ride until lunchtime on day 4 before we take you back to the airport.
How do you and your bikes get there? Your bikes and bags travel ahead of you from the UK. I pick them up from a Kent/SE London pick up point and drive them down ahead of you and then bring them back after the trip. More on this here. You fly down (or get the train or even a lift with me) and I pick you all up from the airport with your bikes ready to ride.
What's the riding like? Mountainous! It's Mont Ventoux! There's a very good reason that it's famous/infamous! There are valley and hill rides on other days which are more accessible. People come here to climb the great mountain, so expect long, hard climbing on that day, but the other rides are not nearly as tough!
How many? Maximum group size is 8. The trip needs to have a minimum of 5 to go ahead.
Price: £695, includes 3 nights in an outstanding catered chalet in shared rooms (single room supplement £150) on a B&B basis; bike and bag transfer from the UK and back; Marseille airport transfers; full support (and I mean full support) on all rides - no need to carry an extra water bottle or clothing up the mountain. Does not include flights (Easyjet Gatwick-Marseille normally less than £100 return - no need to pay for luggage because it travels by road, hand luggage only). Doesn't include flights or meals other than breakfast.

Why Mont Ventoux?
One of the iconic cycling destinations makes for a fantastic long weekend destination from the UK, or it could form the main event of a longer trip to sublime Provence. The Tour de France has been climbing the Géant de Provence since 1951, and has achieved almost-mythical status amongst British cyclists since the death of Tommy Simpson high up on the mountain in 1967.

Have a look at some of the great reviews this trip has been getting for this trip!

Why do it with us? We load your bikes up in the UK into our custom-fitted bike trailer and then take them down ahead of you the day before you travel. We meet you at the airport for 4 days of riding in blissful Provence, if you're doing one of our many long weekends, then we drop you back at the airport and drive your bikes safely back the next day. We stay in a great location (with a pool) right at the foot of the main route, and we know the mountain and surrounding roads and villages in great detail.

Price: For long weekends the price is just £695pp for groups of 8 people, or £795pp for groups of 6 people. For longer trips add around £150/person/day for groups of 8, or ring us for a quote. Includes transport of your own bikes and luggage to/from the UK, plus your transfers to/from Marseille airport and your bed & breakfast in a charming hotel with a pool, a great restaurant across the road and a great bar next door, right on the sunny southern flank of the Géant de Provence.
Support: You will receive full support throughout your rides and the rest of your trip at a ratio of no less than 1:8, including mechanical/medical backup, carrying your spare clothing, water and food, and sourcing of fabulous picnics of great local produce for you (our speciality). When you climb the 'big one' the van will be as close to you as you like and we can usually even pass spare water bottles in and out of the van as we come alongside you, a la Tour.
Routes: Alongside the obvious routes up and down Ventoux, your ride routes can be tailored to suit your thoughts, but we have a long list of suggested routes and must-see and must-ride spots. The van will be on hand to support you throughout your 4 days' riding, and we can meet you at beautiful places with a fantastic picnic, or we can book you in for lunch or supper wherever you like, and then bring you home afterwards if you'd like. We are at your service.
Typically, our very flexible itinerary might be:
Day 1 - riding by lunchtime from the fabulous hilltop Provencale town of Gordes, following the 2016 Tour de France route on table-top smooth tarmac through gorges and vineyards to Bédoin, and your hotel.
Day 2 - an early start to do the big climb to summit before the masses arrive mid-morning. Then either down to the hotel via that descent, or continue on to do other climbs to make a day of it in the surrounding hills, and perhaps a later ride into the nearby sleepy hills of the Dentelles de Montmirail.
Day 3 - the 'recovery' day amongst the area's other fabulous highlights, such as the Gorges de la Nesque and lavender-filled valleys around Sault, and the untramelled villages well away from the hordes. Very much tailored to suit individual wishes.
Day 4 - ride out, descending toward the coast over the Vaucluse and Luberon plateaus and their distinctive villages before a long, late lunch and being dropped at the airport early evening.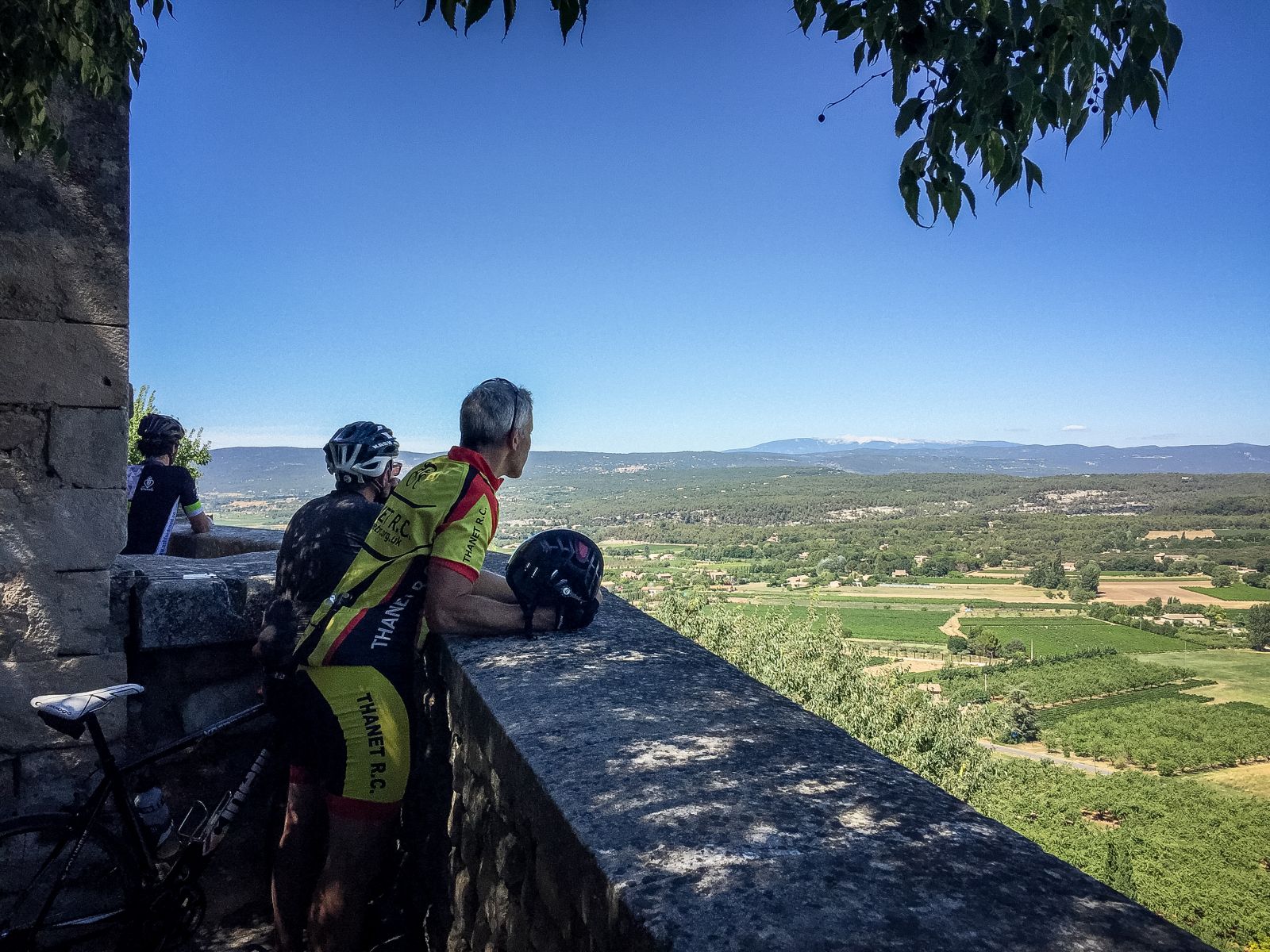 Joining the Club des Cinglés
About half of our guests opt to do the iconic climb not once but via all three routes in a single day. This means that they can officially join the Club des Cinglés du Mont Ventoux (you even get a badge). It's obviously a big challenge - 135km and about 4500m of ascent - and not for novices but it is achievable for any cyclist with a reasonable level of experience and fitness, and maybe a compact chainset! Let us know if you are interested and we'll let you know what to do.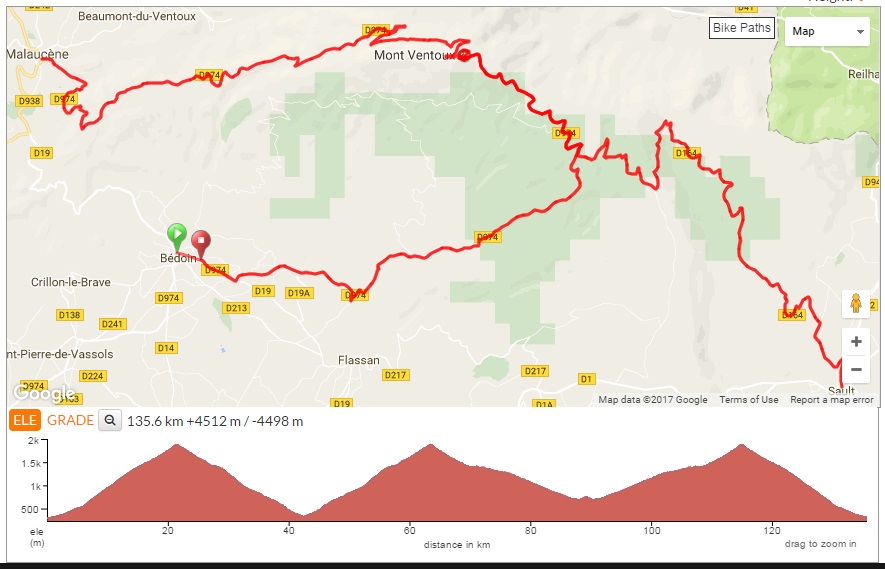 The accommodation: We stay in two great locations. The first is a lovely, small hotel (selected by The Guardian as one of the five best hotels for cyclists in Europe), with a pool, right on the sunny southern flank of the Giant of Provence, with the summit just 18km away, rising from the back wall of the hotel. An excellent restaurant is right across the road and a great bar just next door with its own artisan, wood-fired bakery which opens at 6am.
The second is a wonderful converted farm which now operates as a five bedroomed chambres d'hote. A beautiful quiet location in a sumptuously converted rural buildings with a wonderful bike store and maintenance area, with a great group space and pool. They will also produce lovely evening meals on demand.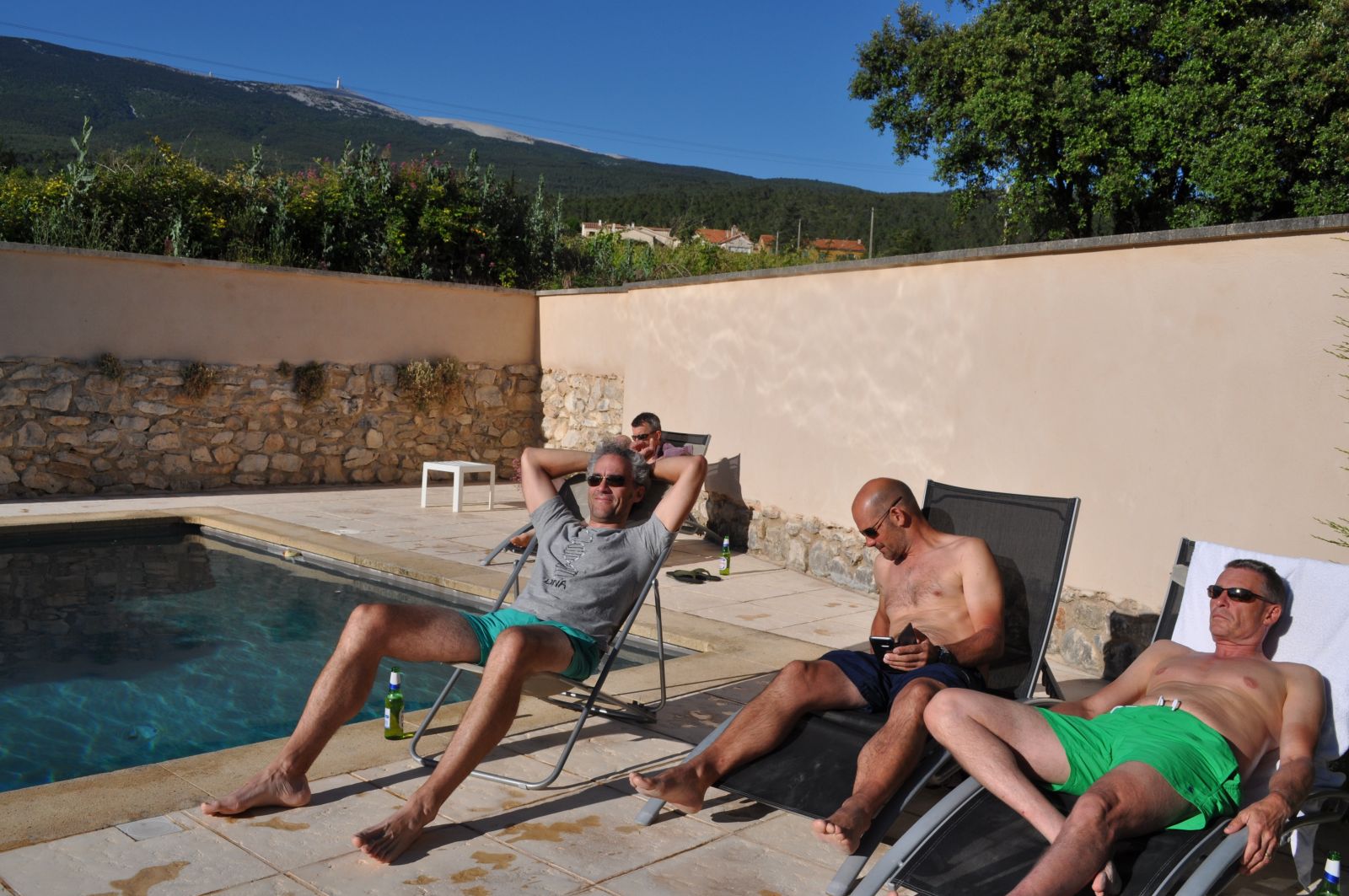 Arriving by plane: Departure: 7.55am Gatwick, arrival Marseille 11am local time. 50min transfer to beautiful drop-off point for lunch and day one ride. Return flight departs Marseille at 9pm for arrival Gatwick before 10pm. Allows plenty of time for a full day ride heading down toward the Mediterranean, and enough time even for an early supper and beer next to a quiet beach on the Cote d'Azur.
Bike pick-up and drop-off will take place from a single location in Kent or SE London a day or two in advance of departure and after arrival.
Group sizes: Would suit a single group of 8 but could be open groups comprised of individuals or pairs. Smaller groups can be catered for, but the best per person price is for groups of 8.
Ability: Any ability can be catered for but to climb Mont Ventoux all riders should have a good level of fitness and be accustomed to riding up steep hills for extended periods of time. Riding from the hotel to the summit is an 18km, 1 1/2 to 2 1/2 hr slog at an average gradient of 8%, with long sections of 12%. The fitting of a compact chain ring and/or 30+ tooth sprocket in your gearset is highly recommended.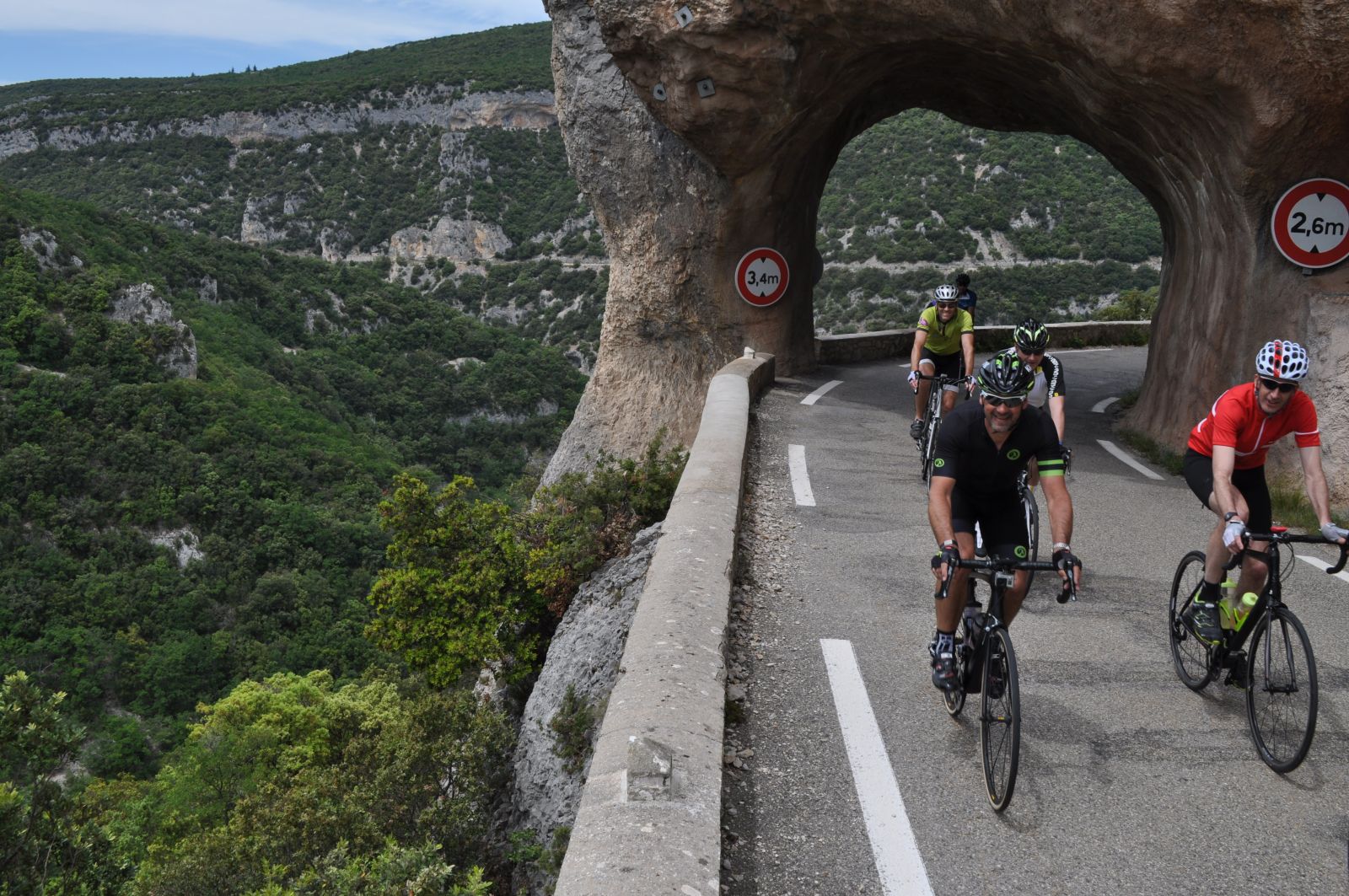 Available weekends: You can choose a weekend for you and your mates by looking at our calendar page for availability, or look out for our 'open' groups if you are not numerous enough to make up a whole group. We recommend both the late Spring (May-June) and early Autumn (September-October) for a Mont Ventoux weekend. High summer is also great but there is a greater risk of very high temperatures. Just consult our calendar page and choose a date then give us a call on 07984 065329 or email us at angus@lavieenvelo.com.