Your host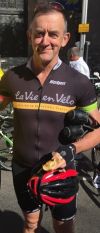 La Vie en Vélo was set up in 2015 by Angus Parker. It was conceived as a lifestyle change and as a way to follow a passion, as well as to be a one man operation, and it has, at the time of writing remained as all of these!
Angus is still based in the UK but has been bringing his family to France for more than 25 years. He has been leading and organising outdoor pursuits and group travel to France and far beyond for 20 years. He was, until recently, a geography and PE teacher, and occasionally he can be found doing likewise in the off-season.
He is a keen sportsman who, after too many twists and strains on the sports field in is 40s, became a confirmed MAMiL (middle-aged man in lycra). He has ridden thousands of kilometres on France's roads and continues to love every turn of the pedal.
Usually, when you are on a La Vie en Vélo trip Angus will drive the back-up vehicle and cater for your every whim, but if you'd rather have a guide on a bike, he can do that too (as long as you wait for him), although when guiding rides it reduces Angus' ability to provide logistical back-up from the minibus, but that is nothing that a leisurely stop at any one of the vast array of hospitable cafés can't sort out.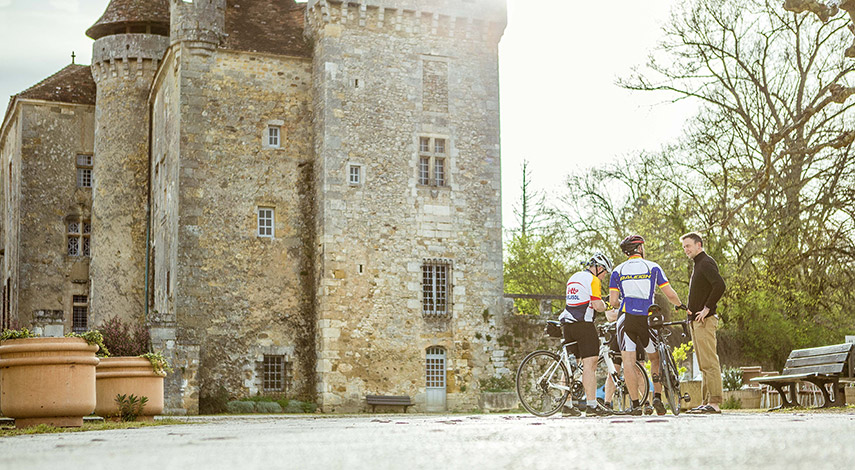 La Vie en Vélo unites Angus's passion for travel to Europe's most beautiful regions and his experience of outdoor activities in foreign lands. Angus speaks a bizarre version of French absolutely fluently. He holds a Level 2 Award in Fitness Instruction and a full outdoor first aid (16hr) qualification. He currently rides socially at around 27kph (17mph) rising to around 29kph (18mph) when 'training', but he won't be able to talk to anyone when he does that!
This is how Angus pictures himself when out on the roads of Périgord: