The accommodation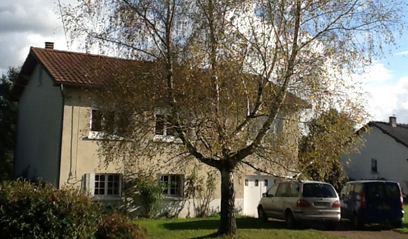 La Bucherie is a large, modern, comfortable 4-bedroomed, detached house with a huge garden offering great views of sunrise and the surrounding wooded valleys. Your accommodation is in four comfortable twin bedrooms sharing two bathrooms, a large dining and living room with satellite TV, well-stocked bookshelves and an open fireplace. While your visit is priced as fully-catered, full-board the kitchen facilities are also available for your own use.
Washing and drying of clothes are available too.
There is a huge internal garage space for safe bike storage and maintenance. A jet wash, bike stands and a selection of appropriate tools are also at your disposal, as is a well-stocked beer fridge!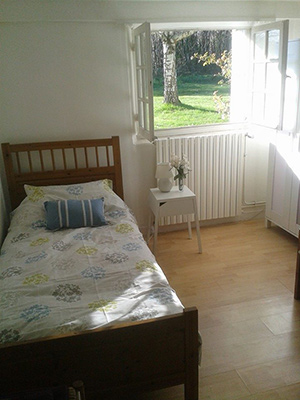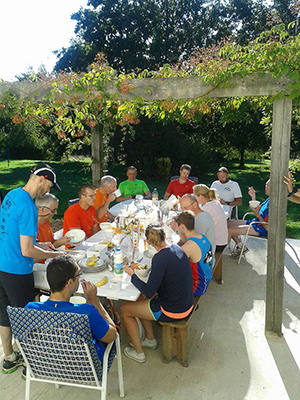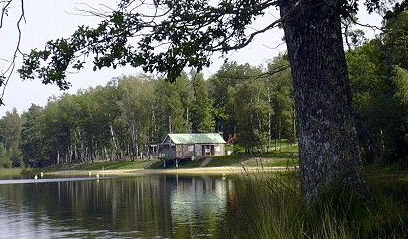 La Bucherie has a extensive garden with shadey trees and a giant rose-covered pergola to relax under and listen to the sounds of owls, woodpeckers, jays and buzzards. Night skies unpolluted by urban lighting give magnificent viewing of the Milky Way and shooting stars on clear nights. It's an exceptional place to unwind in complete peace and quiet.
Only 3km from La Bucherie is a wonderful 1km-long swimming lake managed by the St Saud community with a 200m sandy beach area, showers, toilets, shadey banks and a café. In high season, the lake is lifeguarded from midday to 6pm.
For those who would like to experience more formal accommodation or for larger groups, in nearby St Saud there is alternative hotel accommodation including at the highly favoured Hostellerie Saint-Jacques or the more affordable Hotel Le Sully.