The food
This video gives you an inkling about our view on the great French roadside "pique-nique"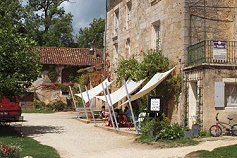 La Vie en Vélo firmly believes that good food is at the heart of your good experience. La Bucherie lies in the Périgord region which is famous for its boar, venison, trout, foie gras, truffles, cèpe mushrooms, and with some of the great vignobles only an hour away, the wine list is world class. La Vie en Vélo serves a hearty, nutritious breakfast which can be tailored to high-performance or luxury, or maybe somewhere between the two, depending on your preference. Croissants and othe vienoisseries are brought fresh to the house every morning.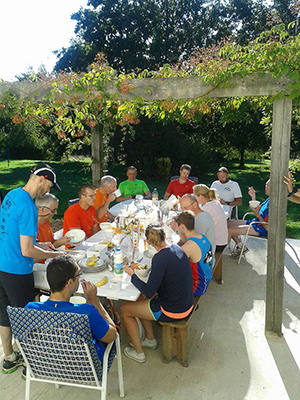 Lunch might be taken as a luxury picnic at a breath-taking viewpoint – think freshest baguette, the finest cheeses and charcuterie of the region, wine or beer, freshly brewed coffee and local fruit juice and sumptuous pastries; or if that is just too indulgent, at the other end of the comfort scale your nutrition could be taken as a high-performance feed bag (musette) to be had in the saddle for those living the Tour de France dream, or maybe you would prefer to eat in a carefully-selected brasserie or restaurant along your route.
Most groups who ride early in the day are happy to come back to the house for a long, leisurely lunch (often followed by a kip!).
Evening meals are usually served around the table in the table d'hôte (host's table) style, often on the patio in the Summer months. Four nutritious and delicious courses, including cheese are served every evening. A half-bottle of the best local wine is included with your meal and other drinks from the extensive cellar (cupboard) can be negotiated.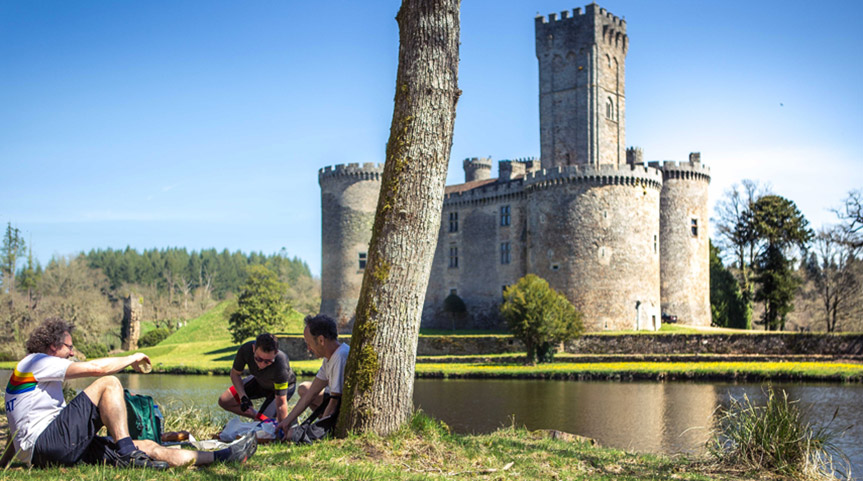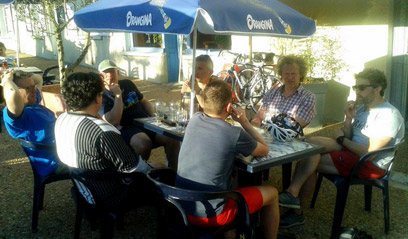 La Vie en Vélo firmly believes that great food is even better when you know where it comes from, and with that in mind food is sourced as much as possible from local growers and producers using seasonal produce.
The Hostellerie St Jacques in nearby St Saud serves fine French cuisine with no flourish spared. A visit is heartily recommended for the gourmand. For simpler fayre, the Hotel Sully offers good value food, and the Brasserie l'Odyssée also does popular bar food. St Saud also has a good butcher, baker and a convenience store for stocking up for your own provisions.
The list of good eateries in surrounding villages is, of course endless. It is France, after all.