For the leisure rider & tourer
For those whose primary purpose of getting on two wheels is to see the landscape, La Vie en Vélo knows what you are looking for. We can suggest routes and help you to see and experience the highlights without the need to work out whether you are King or Queen of the Mountains or not. We are happy to pick you up and bring you back up all those vertical metres to the house. We have a beautiful 250 or 500km 5 day Tour du Périgord-Limousin to recommend to you where you can be picked up and dropped off each day, and fed and cared for along the way.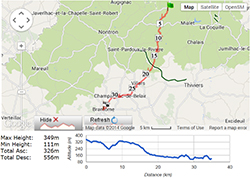 We have a few beautifully flat 20km 'voies vertes' (green ways) on old railway lines which link villages on very low gradients. A great day out is riding down several kilometres of descent to meet up with the start of the green way, follow it until it passes through exquisite St Jean-de-Cole where you are strongly advised to stop for glass in the shade of the trees by the river, before continuing on to the end of the green way where we can meet you and pick you up and bring you back up to the house.
Please note that the delight of the riding in this region is its varied rolling landscape, which means there will always be some climbing to be done which will raise the pulse of any cyclist. In order to cycle comfortably and enjoyably in this landscape you are likely to have a reasonable level of fitness and some recent experience of climbing up hills on your bike. But don't worry, if you've had enough you can just whistle for the minibus. You won't be judged!